Barbet Bay´s
New homepage: This page will be closed down. You are welcome to visit our new homepage; barbetbay.se
VALPAR 2020
Life doesn´t always turn out the way we hope. Today Bellamie started her period several!! weeks to early. Since we wont have the rest of the litter evaluated before it´s time to mate her, me and my husband have this afternoon decided to postpone our litterplans until 2020. 
Bellamie 4 weeks
SE UCH BARBETS BAY´S BELLAMIE, parents Cousteau Von Der Leibrucke & Batterikullens Goody Good.
 HD-B, ED-00, Eyes tested CLEAR 20180515, EMBARKS tested clear.
Height 53 cm, weight 20 kilos
"Bellamie is a swedish champion. She is the daughter of beautiful Cousteau and our Matisse. Bellamie is a very calm, compassionate and affectionate dog. She loves being close to us, to be hugged and kissed. She is a very fast learner and learns tricks very easily. On walks she goes beside me all time in a happy leash just because she wants. She had her first litter summer 2017 with Fazi,  a litter that we are very proud of. Bellamie was an excellent mother, took very good care of all puppies, spent every hour with them until the day they left. She really impressed on me! We kept Rose Étoile from that litter, a lovely copy of her father Fazi. Étoile has now become a social service dog. Étoile and Bellamie have so much fun! They really enjoy each other. It´s so nice to see them together. They can even chew on the same bone at the same time;-) That´s friendship!"
Summer 2017 we had two litters. We got two puppies, a male and a female, between Quaciendas Ruffe Cincarno (Ricard) (b. 20130702)
C.I.E., BE JCH, BE CH, LU CH , 15 CACIB
Diploma Test Of Social Behavour, MyDogDNA, Hips A, Eyes Clear
Height: 58 cm, Weight: 27 kilos
 And
Batterikullens Goody Goody, (Matisse) (b. 20111020)
SE UCH, R-CACIB
MyDogDNA, Hips B, Elbows 0, eyes Distichiasis (very mild)
Height: 53,5 cm, Weight: 22 kilos
Inbreeding in 4 generations 0.0%
Inbreeding in 5 generations 2.98%
Inbreeding in 14 generations 3.9%
The puppies are called Barbet Bay´s Cést Mon Reve Duval and Barbet Bay´s C´est Mon reve Pastis. Pastis moved to Norway and Duval is living here in Sweden.
We also got 7 puppies, 4 males and 3 females, here showned at fb,
https://www.facebook.com/kristina.bram.5/media_set?set=a.2010222059207232.1073741834.100006583715829&type=3
between 
 JChPL, ChPL FAZI Konstelacja Malej Niedzwiedzicy
Hips A, Elbows 0, Eyes Clear
Height: 58 cm, Weight: 26,5 kilos
                                             And
Barbet Bay´s Bellamie, 3 BIR/BOB, 3 CK, 3 CERT, CACIB
Hips B, Elbows 0, Eyes Clear, Embarks All Clear 20170330
Height: 52,5 cm, Weight: 19 kilos
Inbreeding in 4 generations 0.0%
Inbreeding in 5 generations 2.98%
Inbreeding in 14 generations 7,24%
 We have choosen Bruno, FAZI Konstelacja Malej Niedzwiedzicy, for his very nice type and lovely character. Bellamie has a very nice and loving character as well.  Their coats are both easy to handle.
More photos: Bruno to the left and Bellamie to the right
More photos at:
https://www.facebook.com/kristina.bram.5/media_set?set=a.2028888820673889.1073741837.100006583715829&type=3
If you want to study and learn more about the breed please visit this page; Barbets en Bresse:
http://chiendeaufrancais.com/articles.php?pg=art168
Köpa valp
Om man vill köpa en valp ifrån oss vill vi försäkra oss om att valpen kommer till ett hem som har goda möjligheter att ge valpen den tid, den kärlek och omvårdnad och den stimulans som den behöver. Vi vill veta hur valpen kommer att ha det hos er inte bara den första tiden utan även senare. Så vi önskar att ni berättar om er själva, era tidigare erfarenheter av att ha hund och era tankar kring val av ras och ert val av att köpa valp av just oss. 
 Valparna är uppfödda i hemmiljö med rika möjligheter att socialiseras i lagom stora portioner. De får umgås med barn i olika åldrar, under vår uppsikt naturligtvis. Vi ägnar valparna all välbehövlig tid och tränar dem i hantering, borstning, kloklippning och att umgås med vatten. Vi tränar dem i rumsrenhet och att gå i koppel. Valparna levereras enligt SKK's regler, tidigast vid 8 veckors ålder. Vi hjälper dig vid valet av valp;-)
Valparna är registrerade, veterinärbesiktade, vaccinerade, avmaskade, chipmärkta och dolda fel försäkrade i 3 år.
När ni hämtar er valp får ni med er:
Valpfoder och matlista
En hundfilt som luktar mamma och syskon
En leksak
Ett schampo
En borste att sköta pälsen med
Ett halsband med koppel
Tips och råd under den första tiden
Första valpboken av Monica Hillman. Medföljer DVD med Monicas egna instruktionsfilmer.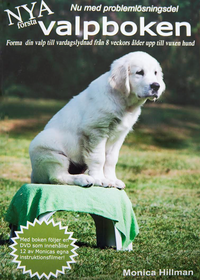 Valpens alla papper
Medlemskap i Barbetklubben i ett år
När du hämtar din valp är den självklart nybadad och fin;-)
För oss är det viktigt att ha en bra kontakt med våra valpköpare, såväl under valpens första tid hos oss som när valpen flyttat hem till er. Ni är så välkomna med frågor och funderingar.
Är du intresserad av en valp är du välkommen att höra av dig.
Kristina Bram
0480-470701
070-5452630
Nelum Himalis Amande, mamma till Matisse och mormor till Bellamie. Av fotograf Åsa Lindholm